Saucepan Ready Range
Innovation of The Year Award
Securing the Innovation of the Year Award 2022 for our Saucepan Ready Range was an outstanding privilege.
We don't create our ranges and collections with winning awards in mind. We do it to provide the nation with wholesome meals and ingredients that don't sacrifice on flavour or quality. It is an added bonus that we have been selected to be the 2022 winners of Innovation of the Year. Discover more about the range of products which helped to secure this accolade. While learning how this supports our mission of providing restaurant quality meat directly to the doors of our customers.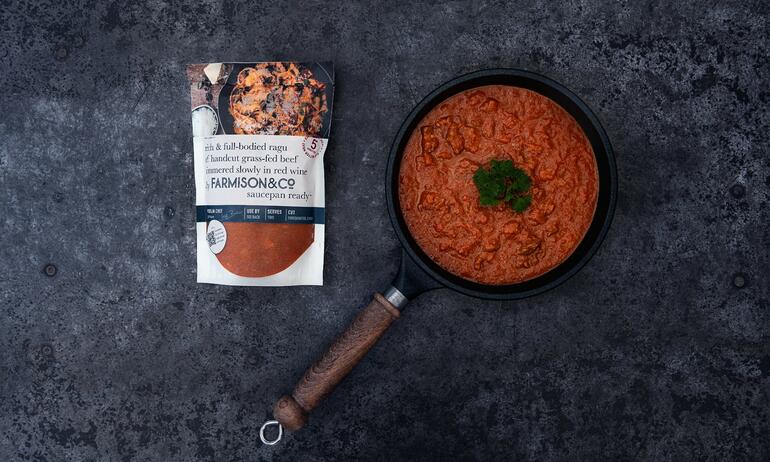 What is the Innovation of the Year Award 2022?
The Innovation of the Year Award is a category hosted by The Butcher's Shop of the Year Awards. This awarding body provides the opportunity to UK butchers to display their:
Company credentials
Quality products
Artisan knowledge
Support for the local community and agricultural landscape
Participating in this category specifically, allows us to highlight the innovative work Farmison & Co are achieving to help the nation eat better meat.
The range we submitted for this award was our new Saucepan Ready Range. Born out of the team's efforts during the pandemic. Michelin starred chef Jeff Baker ensured the team was kept well fed with nutritious and wholesome food. After perfecting his recipes with rich flavours, he worked alongside our butchers to include the perfect cuts of meat for each dish. The outcome? Delicious ready made meals. Convenient to cook and an easy way to eat better meat.
Our award winning Saucepan Ready Range is the ultimate solution to eating better meat easily. Providing nourishing and satisfying flavours, these convenient pouches each contain a delicious sauce and tender chunks of meat to be enjoyed by all.
We believe that often the best food has the simplest yet quality ingredients. That is the exact principle behind this range. Simple, classic dishes, created with the best ingredients and ready to cook up a treat in your kitchen.
Each Saucepan Ready pouch is crafted with responsibly sourced ingredients. The meat used in each meal is always free range, always naturally-fed, British and from heritage breeds. Meaning you can trust us when we say quality. It truly is the best you can source. From grass-fed beef and grass-fed lamb for your Sunday dinner, to Christmas Turkey and Christmas meat for the festive season. Buy better meat from the 2022 Innovation of the Year Awards winner.
Try the Saucepan Ready Range for yourself. It includes a range of family favourite dishes:
What is the Criteria to Win the Innovation of the Year Award?
The criteria to enter the Innovation of the Year award is a one step process, which includes two different documents. We have to provide a detailed explanation to what the initiative, enterprise or business development undertaken was. Which is then supported by set questions asked by the awarding body.
A handful of the supporting questions included:
Why was it introduced?
What has the benefit been?
Detail any barriers you had and how you overcame them
These insights were favoured by this year's judges. Meaning we were presented with the Innovation of the Year award for our Saucepan Ready Range. Try the delicious, mouthwatering recipes for yourself. Each pouch features our Michelin Starred trimmed meat in every bite.
Award Winning Butchery By Farmison & Co
Alongside winning the 2022 Innovation of the Year Award, we are proud to highlight our other award winning achievements. They include:
The Gold Grocer Specialist Online Retailer of the Year Finalist 2022
The Observer Food Monthly Awards - Best Independent Retailer 2018
Farm Shop & Deli Awards 2018
Farm Shop & Deli Awards 2017
Receive Better Quality Meat With Farmison & Co
Seeing our valiant efforts towards getting the nation to eat better meat, recognised by national awards is outstanding. We are very humbled to have been awarded Innovation of the Year Award 2022, as it is a collection which was born through a difficult period of time for many. Not only this, but it allows us to have the confidence that demanding change for the current meat industry standards, is something felt by all.
Our founder, John Pallagi, creates and publishes monthly newsletters. Which contains a snippet of what is happening in the wider industry. Many of which spark conversation to those who may not be as familiar. One particular area of interest in these newsletters is meat traceability and meat provenance. At Farmison & Co, we want to ensure customers know exactly where the produce has been sourced from and raised. This helps to make a better decision when buying better quality. Sign up to our newsletter today to receive 15% off your first order and insights to new products and offers.