How do I book a click & collect order?
Click & Collect is available to people who live within a 30 mile radius of our offices in Ripon. When you place your order and you live within this area you will be offered the option of Click & Collect with a range of available slots to select your preferred collection.
Our collection times are:
Monday - Friday 9am - 5pm
Saturday & Sunday - Closed
What do I need to bring to collect my order?
Please bring your mobile phone with you to show the email as proof of purchase (if you have emails to your phone), or print out the receipt email confirming your order. You'll also need your photo ID.
For Click & Collect collections we accept the following forms of ID:
Valid passport
Driving licence
Recent Utility bill
If you paid entirely with gift vouchers, a gift card or PayPal, bring either your passport or photocard driving licence with you.
If someone else is collecting your order, they must bring your order number and your proof of ID.
How long will you hold my order?
You must collect your order on the day and at the time slot which you have booked. Given the nature of the products we sell, we can keep your order safe for a further 24 hours if required. After that time your order will be removed from our storage and disposed of. You will not be entitled to any form of refund against your order if you fail to collect it within 24 hours of the booked time slot.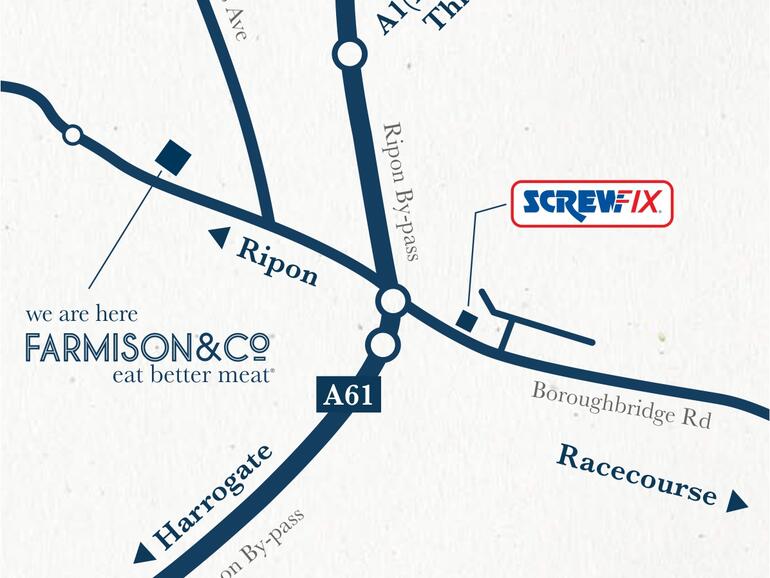 Which shop will my order go to?
Your order is available to collect from our Ripon office. Farmison & Co, Bondgate Green, Ripon, North Yorkshire, HG4 1QW.
now open
cut by farmison & co
A new way to buy better meat is here. Our very first shop is now open in Ripon at our premises on Bondgate Green. For more information about the world's biggest (virtual) butcher's counter, click here.
Learn more about Cut