easter inspired dishes from around the world
Blog • March 16th 2020
easter inspired dishes by farmison & co
Our new Easter range has been inspired by Easter dishes from around the world. We have featured some special meals from various countries across the globe where Easter is celebrated.
These worldwide inspired dishes are guaranteed to impress friends and family this Easter. So relax and enjoy some truly authentic dishes curated by our executive chef Jeff Baker.
the easter range 2023
Our Easter range for 2023 features:
fennel & lemon spiced spatchcock chicken
Our first Easter inspired dish pays homage to Sicily, and is spatchcock chicken rubbed with fennel, lemon peel, garlic and a little touch of sweet chilli. These are the flavours of traditional porchetta (another popular Italian dish) and they compliment the chicken in a wonderful way. Served with soft polenta and wild rocket salad - this Easter chicken is a real showstopper.
Uncover the full recipe for our spatchcock chicken, an Easter inspired dish from Italy.
carvery leg of lamb
Next up is our carvery leg of lamb. The Easter lamb inspired dish is famed in the south-west region of France, traditionally seasoned with meaty, umami rich anchovies, rosemary, black garlic and lemon. The end result is well worth the wait; soft, unctuous meat in a rich savoury gravy, served with tender green beans and buttered new crop potatoes.
Uncover the full recipe for our carvery leg of lamb to treat your guests this Easter.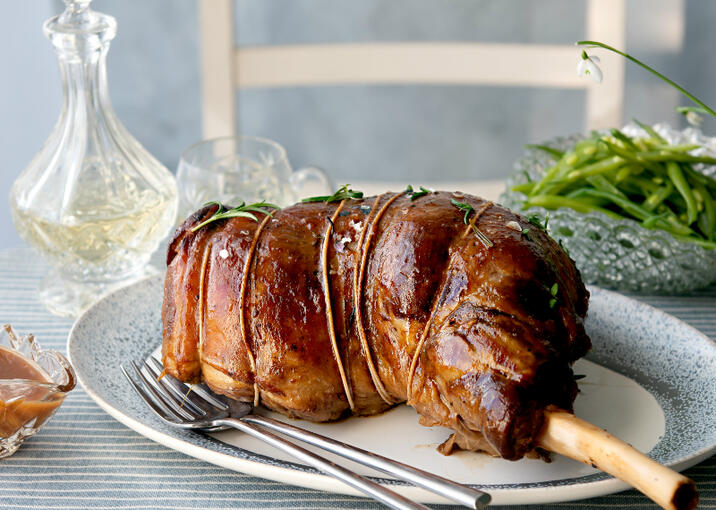 Hungarian meatloaf
Eastern Europe was the inspiration for our Easter dish, Hungarian Meatloaf. Delicately spiced free-range pork with notes of pepper and caraway seeds, the meat coarsely chopped before wrapping in our dry-cured pancetta. This tasty dish is oven ready and we recommend serving alongside creamy mashed potatoes and cabbage hearts.
Discover the full recipe for our Hungarian meatloaf, and Easter inspired dish from Eastern Europe.
chilli con carne
From further afield we focused on South America and Mexico in particular to create our own version of the world famous Chili con carne. We've created a rich stew made from Heritage Breed grass-fed chuck steak, gently simmered with black beans and perfectly balanced with spices enriched with bitter chocolate and finished with lime. This Easter beef inspired dish can be served with rice for a more formal meal or with soft tortillas alongside a selection of salsa, guacamole and sour cream to enjoy as the perfect finger food at any occasion.
Discover the full recipe for our carne con chilli, to wow your guests this Easter.
lamb shoulder cushion
Back on our shores, we love to indulge in traditional breeds and cuts of grass-fed lamb. Our fifth Easter inspired recipe is a pot roast shoulder of Lamb Cushion. The bones expertly removed by our master butcher then tied into a stunning cushion of meat before cooking low and slow until meltingly tender - the lamb is then glazed with English mustard and redcurrant jelly, for a sweet and spicy finish. This goes great with champ mash and Cavolo Nero alongside the gravy made from the roasting juices.
Discover the full recipe for our lamb shoulder cushion, to impress your guests this Easter.
Beef wellington
Finally, we have created an Easter inspired centrepiece, a world class beef wellington. Succulent Easter beef, seared and delicately wrapped amongst chestnut mushrooms, savoury pancakes and pastry. All while seasoned with shallots, garlic and tarragon. This is a firm family favourite and definitely worthy as an Easter treat, served with seasonal springtime vegetables.
Discover the full recipe for our British inspired beef wellington this Easter.
Have your Easter meat delivered directly to your door
Make hosting an Easter dinner inspired by international countries' dishes easy this Spring by subscribing to better quality meat. At Farmison, you not only have the convenience of having high quality meat delivered directly to your door, having your favourites on subscription means you will always have a supply in your fridge or freezer. What's more, new for 2023, we have launched QR codes on each of our fresh products, to provide fully traceability from farm to fork. Try it for yourself when you order your next meat box.