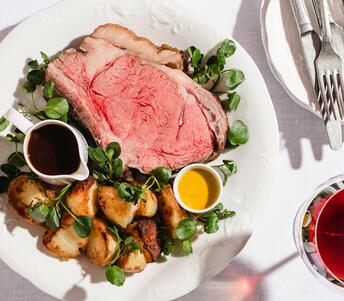 Ingredients

1 x Farmison & Co Wing Rib of Beef
2-3 onions
2-3 carrots
Celery (or root)
Bay leaf
Sprig of thyme
A few black peppercorns
Introduction
Christmas beef is a time-honoured tradition for a reason. Succulent, tender, and perfect for leftovers on Boxing Day, a Christmas roast beef dinner will certainly go down a treat.
Method
Remove your Christmas beef from the packaging, pat dry and bring to room temperature.
Preheat your oven to 210c for fan assisted or 230c for ovens without a fan (gas 8).
Choose a large, heavy-based roasting tray, ideally with deep sides and handles for easy movement.
Season the meat with good quality sea salt just prior to cooking.
Make a trivet by roughly chopping equal amounts of onion, carrot and celery (or our preferred choice of celeriac, the roof of the celery), plus a by leaf, sprig of thyme and a few black peppercorns.
Place the beef fat side up onto the trivet which should line the base of the tray.
Place in the centre of the oven and roast for 25 minutes, then reduce the temperature to 160c or 18-c without a fanj (gas 4), and continue roasting for 12 to 15 minutes per 500g, reaching a core temeprature of 52c before resting for a medium rare joint.
Remove from the oven, put onto a clean tray and keep warm by covering with a sheet of foil.
Rest for a minimum of 20 minutes before carving, leaving the roasted vegetables in the tray for the gravy.