Ingredients

1 x 750g centre cut fillet of beef
1 x pack mushroom duxelle
2 x packs butter puff pastry
1 x pack air dried ham
1 x red wine sauce
1 tbls poultry fat or oil massaged into beef
sea salt and freshly ground black pepper
10g cold diced butter
2 x egg yolks mixed with a splash of milk and beaten
Introduction
A real show-stopper, this recipe is a must have for impressing your family and friends, boasting a prime centre cut fillet which has been expertly matured in our Master Butcher's reserve for the ultimate concentrated beefy flavour and texture that's as soft as butter.
Method
Sear the beef all over in a very hot frying pan for 2-3 minutes, seasoning with salt and pepper until a rich colour has formed then remove from the pan and chill.
Method for The Wellington
1. Pre heat the oven to 180c fan assisted or 200c without a fan (gas mark 6).
2. On a sheet of greaseproof paper 25cm x 30cm lay the ham lengthways to cover the paper.
3. Spread a thin layer of duxelle over the ham then place the beef furthest away from you towards the top leaving a 10cm gap then using the paper roll into a cylinder and chill.
4. Lay out the first sheet of pasty onto a cold work surface and cut a piece 15cm wide from the longest part and reserve for the lattice.
5. Brush the pastry with egg wash and sit the beef parcel in the centre.
6. Take the second sheet of pastry and lay over the beef parcel gently sealing the edges, trim away the excess pastry then using a fork crimp all the edges to seal then glaze with egg wash ready to place the lattice over.
7. With the 15cm reserved strip of pastry using a lattice cutter score the pastry then carefully lay over pastry and brush again with egg wash and chill.
8. Bake for 35-40 minutes, reaching a core temperature of 45c before removing and resting for medium-rare beef.
9. Rest for 15-20 minutes on a wire-cooling tray before carving into slices approximately 5cm thick.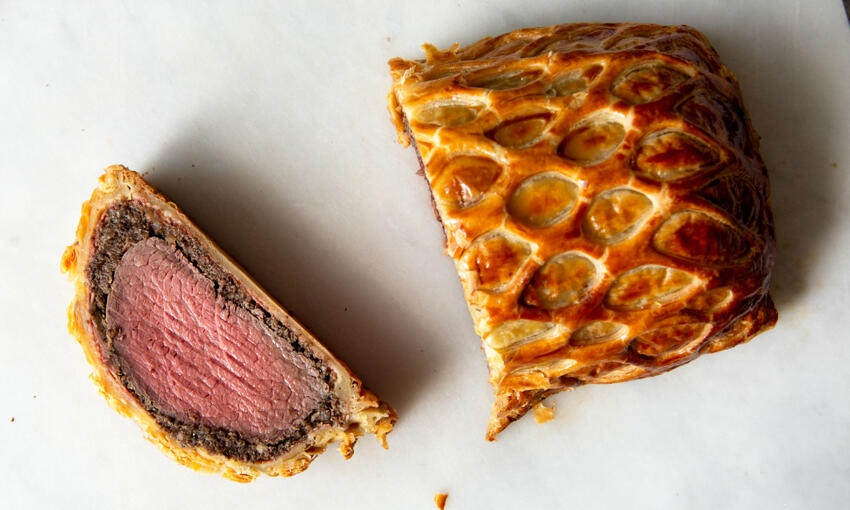 10. For the sauce bring to the boil in a saucepan, simmer for 3-4 minutes then whisk in the cold diced butter, this will enrichen the sauce & give it a great shine and body.
ToServe
With a classic gratin dauphinoise, glazed carrots and a rich red wine sauce.