August and September: A Harvest Festival of Flavours
Blog • September 2nd 2013
Fresh, fresh, fresh - that's my mantra for late Summer! I love the changing seasons but these two months are really special because everywhere is bursting with produce and late summer morsels rubbing shoulders with the first fruits of autumn. It's nature in all its rich abundance and a time to get 'ready-set-go' with your bottles, kilner jars and freezer bags!
The late arriving warm summer has given growers a real bounty this year, so it should be easy to make the most of this month's tasty tomatoes, pink lobster and, of course, succulent game.
Game On!
The Yorkshire Moors offers some of the best shooting drives in the country, and plump and colourful grouse is the centre of attention come the Glorious 12th - the official start of the grouse season that ends in December. Bagging the first grouse of the season is a prize that's highly sought after and this bird offers a beautifully delicate gamey flavour, perfect stuffed with apple, butter and twirls of lemon zest, wrapped in a little crispy pancetta.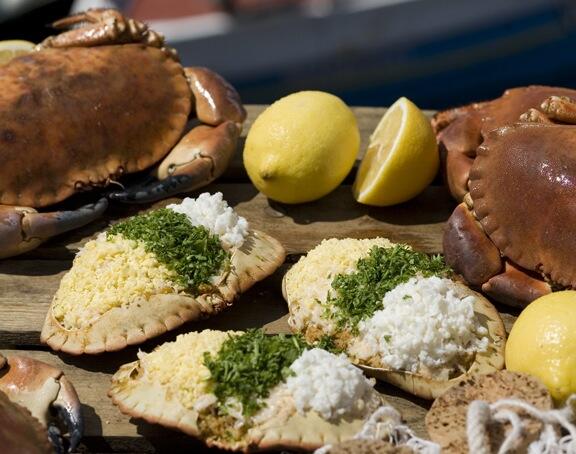 Catch a Crustacean
As one of the biggest shellfish exporting towns in the UK, Bridlington is the place to be this month for crabs and lobsters. One of life's little luxuries - lobster is especially abundant in August thanks to the warmer waters and I like to source mine live from a good fishmongers or direct from the coast. I always think they're best served simply with a buttery sauce, a pinch of paprika, sea salt, and freshly ground black pepper.
Don't be put off by the tough exterior of the crab either - fresh crab is well worth the effort - even though it can be a bit 'fiddly.' The European brown crab and spider crab are available for most of the year but in the summer they've reached plump proportions.
Cobblers and Crumbles
August also boasts another star of the season - apples - and we're blessed with some fantastic orchards in Yorkshire (at Ampleforth Abbey there's some 2,000 trees and 40 different varieties). The branches will soon be heavy with cookers and eaters, and while crumbles and cobblers are very nice, I also like to use mine in savoury dishes where they bring a sweet tang to pork. They are also unparalleled sautéed in a little butter and added to a salad of steamed baby kale leaves and crispy bacon lardons.
Roots and Shoots
Veg baskets will also be overflowing with roots and shoots over the late summer season as turnips, tomatoes and beetroot swell and ripen. Once considered 'cattle fodder' I'd like to make it my mission to encourage more people to try turnips! The tender baby roots are fantastic and can't be beaten for their sweet, peppery flavour, which brings a creamy flavour to dishes, and what's more, the young leafy tops can be used too. Similarly, beetroot is only now coming back into ' foodie fashion', but it's wonderful in borscht, made into a quick pickle, or sliced into thin discs and roasted. You can also try my delicious Beetroot and Apple Salad here.
Off the Vine
For me, however, one of life's greatest pleasures is tucking into the first tomatoes off the vine in the garden: juicy and warmed by the midday sun. Eminently versatile whether they are fresh, tinned, puréed or sieved - you can't beat a simple gazpacho and I love it because it uses up my glut of cucumbers too! Really ripe tomatoes are the key to success; and I blend around 1kg with ½ peeled cucumber, some spring onions and 2-3 chopped cloves garlic until smooth. Sieve it to remove the pulp and then whizz up again with a little oil, vinegar and seasoning to taste.