Dainty Dexters Maintain our Dales Landscape
Blog • August 17th 2020
"They might be up here," Stuart Raw said. He nodded towards a copse of oak trees at the top of the valley. We were looking for his Dexter herd. So vast is their enclosure of upland pasture, they can be tricky to find at times - especially because they're so small.
We set off walking through the bracken and knee-high grasses, the soft earth squidging under food. As we went, Stuart pointed out the birds: marsh harrier, curlew, peregrine falcon. Stuart farms at the top of Wensleydale, above Castle Bolton, and just below where the moorland - and a new habitat - begins.
As we went, he explained that this particular pasture had remained the same for about six hundred years. The trees that used to cover the dale were felled for the fireplace at Castle Bolton, and the grasslands that emerged instead were used for hardy cattle that could turn the rough grazing into quality meat. As we dipped and dodged branches, and kept our eyes peeled, it felt more like a game drive or safari experience
And then we saw them, lying down in the bracken. Dexters are only four feet at the shoulder, and they are curious creatures. One by one they stood, blinking at us, before coming to say hello. The wee calves followed, and before long we were surrounded by the pint-sized cattle.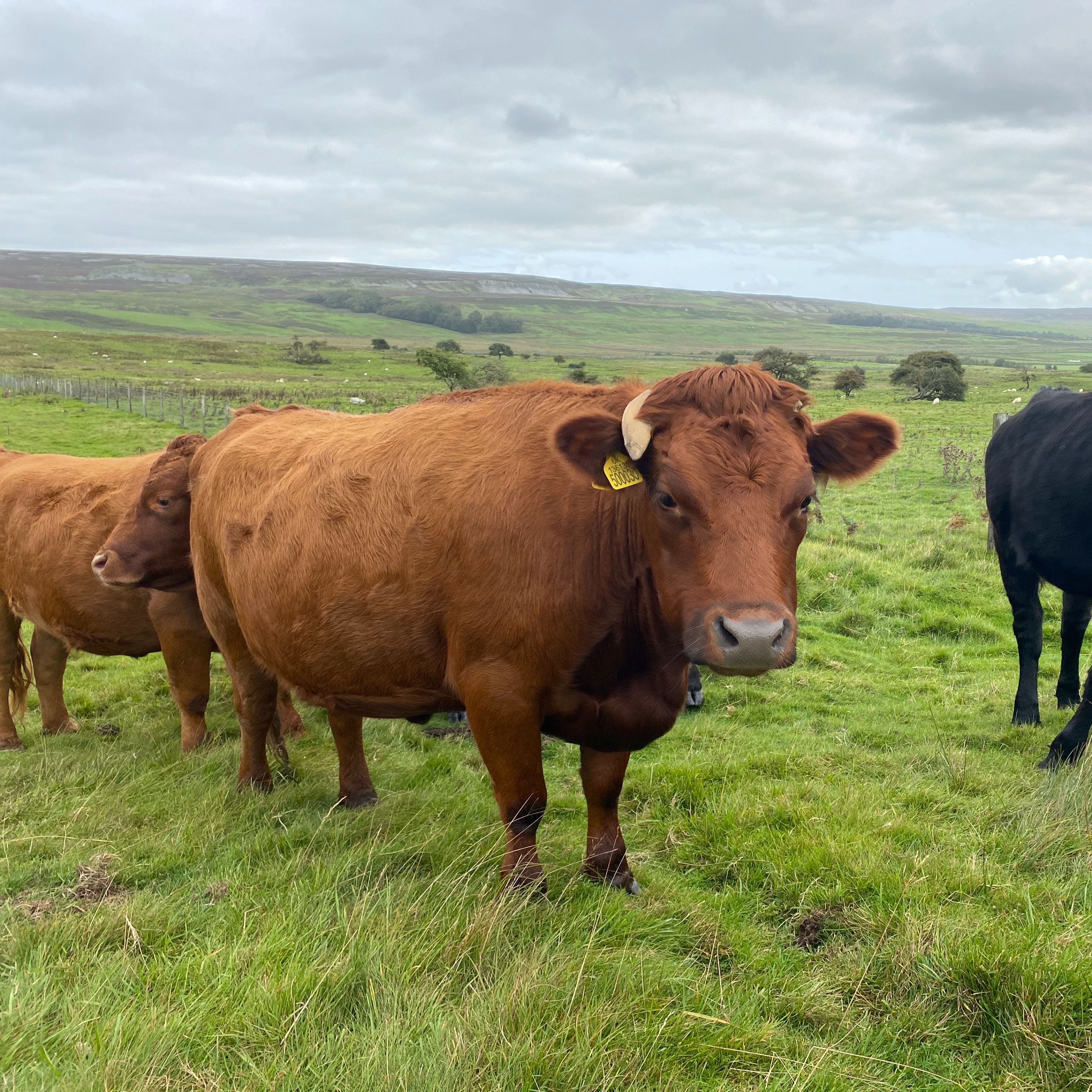 As we stood chatting, Stuart inspected his herd carefully. As a farmer Stuart is quite unusual. He wasn't born into beef farming. Actually, he first took on cattle as he was unsatisfied about the steak he could buy. That's been Farmison & Co's gain.
We sell Stuart's Dexter as often as possible - the quality is just fantastic. The meat is imbued with the flavour that their diet of wild grasses gives them. Dry aged by our Master Butchers to relax the grain of the beef, Stuart's goal of producing quality has been fulfilled.
He estimates that without Farmison & Co, he'd have 40 Dexters. With us, he's got 140 in his herd. That is astonishing. Our customers are directly growing the Dexter herd book, and that is something for us to shout about.
Stuart explained that the Dexters maintain the habitat well. Without some grazing, the fields would revert to forest, but with them it keeps the ecology alive - particularly suited to ground nesting birds like the curlew, red shank, or lapwing. The droppings of the Dexters also provide food for insects, which of course cascades up the food chain to sustain other live.
Having met the cows, we headed back down to the village of Castle Bolton. Stuart has a field right next to Bolton Castle, and he treated us to a sheep dog display above the misty dale. His dog Roy herding the small flock of Jacobs and Wensleydales. People like Stuart are keeping the traditions of the Dales alive, and your custom is directly supporting them.