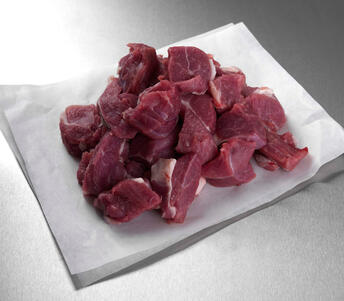 Ingredients

1Kg Diced Mutton
10g Plain Flour
10ml Light Olive Oil
Sea Salt
10g Unsalted Butter
2 Large White Onions Diced
4 Cloves Garlic Crushed
1 Lemon Zest and Juice
2 tblsp Madras Curry Paste
1 tblsp Tomato Puree
50g Root Ginger, Peeled and Grated
Pinch Saffron Optional
1 Red Chilli, Deseeded and Finely Chopped
200ml Coconut Milk
400ml Rich Chicken Stock
100g Puy Lentils
10 Fresh Curry Leaves
2 Whole Cloves of Garlic
Bunch Corriander
Natural Yoghurt
Boiled Jasmine Rice
Introduction
A fantastic, warming dish from my personal collection, ideal for allowing the rich, deep flavours of the natural mutton to develop.
Method
To begin toss the mutton in flour and lightly season, before frying in olive oil in two batches until rich and golden.
Transfer to a casserole dish.
Next, soften the onions in frying pan with butter, garlic, lemon zest, ginger, curry paste, chilli and cook until soft, then stir in tomato puree and lemon juice.
Add the stock, saffron if using, and coconut milk, bringing to the boil, then pour over the diced mutton.
Cover with a lid and cook for 2 hours on 125°C.
In a separate pan, cover lentils with cold water, bring to simmer and remove any scum from the surface, gently fry curry leaves then add to lentils.
Add garlic and cook until just tender, approximately 25 minutes, discard garlic cloves.
Drain excess water from lentils and add to the mutton curry.
Cook for a further 30 minutes making sure the meat is tender and the casserole doesn't boil dry.
Serve with natural yoghurt, lots of torn coriander and bowls of steamed jasmine rice.