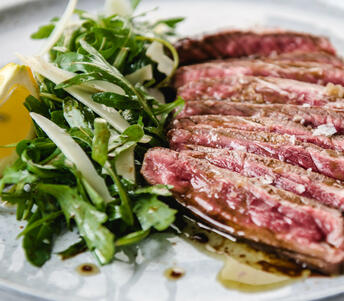 Ingredients

Olive oil for cooking the steaks
500 g Fassona Sirloin Steaks
50 ml Italian Extra Virgin Olive Oil
15 ml Aged balsamic
2 strips of lemon peel + the juice
3 garlic cloves bashed
4 sprigs of rosemary
Sea salt and freshly ground black pepper for seasoning
Wild Rocket
Reggiano Parmesan to shave
Introduction
Our Fassona Tagliata Sirloin Steak is reared & grass fed to 40 months on the stunning hills of Piedmont, this is a sweet, soft & super lean meat that must be served either raw or rare to enjoy it at its best.
Method
Remove the steak from the fridge an hour before cooking & massage with a little olive oil.
Heat a heavy-based frying pan or griddle over a high heat until it is smoking hot.
Season the steak with sea salt and place in the smoking-hot pan & char on one side then turn the steak & repeat, when fully charred lower the heat to medium then cook 2 minutes each side. Remove from the pan and allow to rest on a wire rack set over a plate to catch the juices.
While the steak is resting tip away excess oil from the pan then add the olive oil & garlic, rosemary sprigs & lemon peel to the pan & infuse for a few minutes then add the lemon juice & balsamic.
Strain the dressing through a fine sieve or tea strainer and add the juices from the steak.
Thinly slice the steaks onto a warm serving plate then season with a few sea salt flakes and black pepper then drizzle over some of the dressing.
Dress the rocket leaves with the remaining dressing.