Ingredients

For the Chicken:
1 Free range chicken
2 litres water
200 g fine sea salt
100g golden caster sugar
8 x black peppercorns
1 x bay leaf
1 x piece rosemary
Peel of ½ lemon
Melted butter to rub on chicken
For the Yorkshire Puddings:
100ml full fat milk
2 x Extra large FR eggs
100 g plain flour
Pinch salt
Pinch ground white pepper
Beef dripping or chicken schmaltz
For the Gravy:
20g unsalted butter
15g plain flour
500 ml hot chicken stock
Glass of Madeira wine (optional)
Method
METHOD FOR THE BRINE:
This simple brine locks in juices, enhancing the natural flavour of the chicken!
Bring 1 litre of water to a boil with the salt and sugar.
Add herbs, spices and peel then remove from heat.
Add the final 1 litre of cold water and chill.
Immerse chicken in the chilled solution for 6 to 12 hours.
Remove from brine and quickly rinse in cold water then air dry before roasting.
TO ROAST:
Roast the chicken on a trivet of vegetables (equal amounts onion, carrot and celery with a bay leaf and few sprigs of thyme).
Preheat oven to 180°C fan assisted or 200°C without a fan (gas 6).
Massage the chicken with a little melted butter.
Roast for 1 hour.
Serve as a traditional roast with Yorkshire puddings, roast potatoes and charred Hispi cabbage.
METHOD FOR THE YORKSHIRE PUDDINGS:
Using a handheld whisk mix all the ingredients except the fat together to form a smooth batter then leave to rest for a couple of hours at room temperature.
Preheat oven to 200°C fan assisted or 220°C without a fan (gas 7).
Add a spoon full of fat to each Yorkshire pudding tin, place in the oven for 5 minutes until very hot then remove from oven.
Carefully pour the batter into each tin three-quarters full, place back in the centre of the oven and cook for approximately 20 minutes; the puddings will have risen, with golden brown edges ready to serve.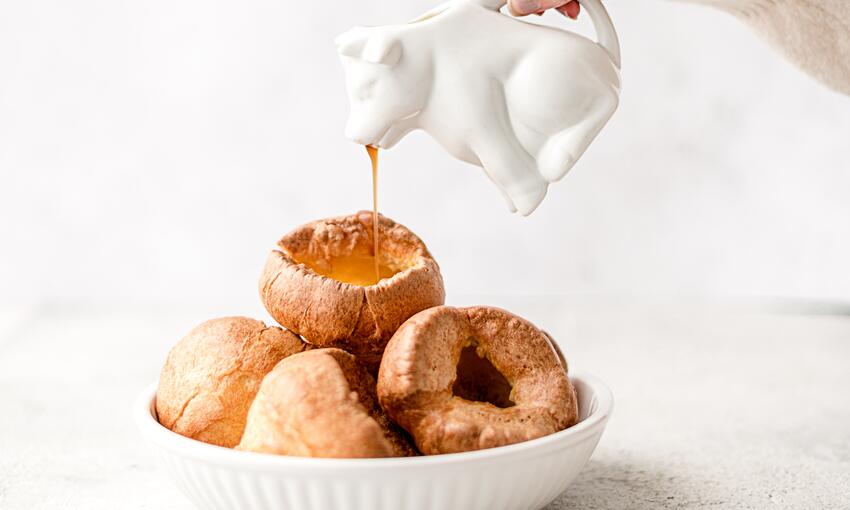 METHOD FOR THE ROAST CHICKEN GRAVY:
Using the same roasting tray the chicken has been roasted in, drain away any excess juices and reserve.
Place the roasting tray over low heat and add the butter, when the butter melts and foams a little add the flour and stir in well to form a paste.
Add the Madeira wine if using and reduce by half, then gradually pour the roasting juices and the stock back into the roasting tray until the gravy comes to a simmer and thickens. Simmer gently for 5 minutes until rich and glossy then check the seasoning.
Strain the gravy through a fine sieve into a saucepan and keep warm.
Carve the chicken dividing the breast and leg meat evenly, serve with Yorkshire puddings, roasties, seasonal vegetables and the gravy.