Ingredients

4 free range chicken thighs skin on bone in
Olive oil
Sea salt
1 lemon zest cut into fine strips & juice reserved
1 aubergine peeled & diced
1 large onion peeled & diced
4 cloves garlic crushed
2 plum tomatoes peeled, deseeded & diced
1 tin chopped tomatoes excess juices drained
1 tsp. unrefined sugar
2 tbsp. red wine vinegar
Handful golden raisins
1 tsp. Ras el hanout
1 tsp. Aleppo chili pepper
Handful mint & coriander roughly chopped
Fine sea salt to taste
Greek yoghurt to serve
Introduction
Aubergine is a popular ingredient throughout the world of cuisine but only recently getting valued here for its great versatility. This recipe is my interpretation of the world famous imam bayildi (which literally means the priest fainted) paired with crisp skinned free-range chicken thighs perfumed with the juice and zest of lemon. Other great dishes include moussaka from the Middle East & Brinjal Bhaji (Indian Aubergine Curry).
Method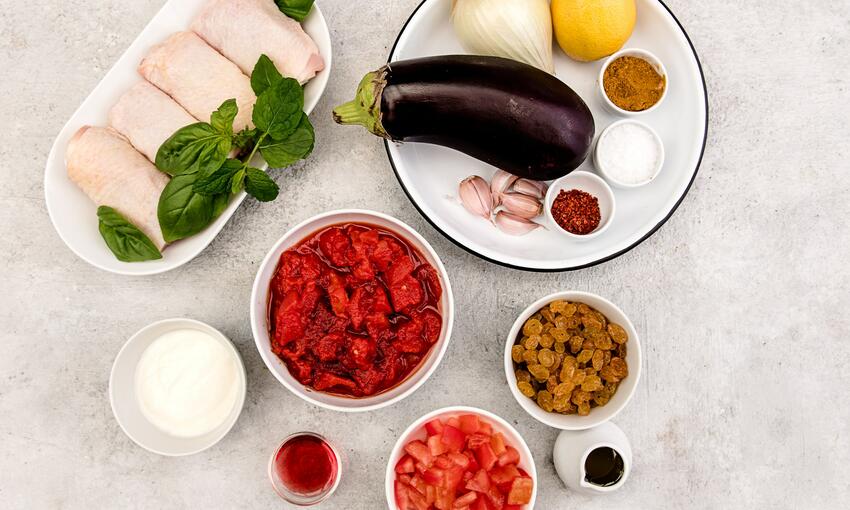 Method for the spiced aubergine
In a non stick frying pan heat a little olive oil then sauté the diced aubergine until golden and tender, season with sea salt and keep to one side.
In the same pan add more oil then soften the onions and garlic over a medium heat.
Add the spices and cook out for a minute or so then add the sugar and vinegar & reduce to a syrup.
Add the tinned tomatoes and raisins then cook over a medium high heat until they become jam like in texture then fold through the fresh diced tomato and the cooked aubergine.
Just before serving roughly chop the herbs and fold through the mixture.
Remove your chicken out of the packaging, pat dry and bring to room temperature.
Preheat a griddle or heavy based frying pan over low to medium heat.
Season the chicken with sea salt just prior to cooking.
Place the chicken thighs skin side down into the pan to crisp the skin before searing on the opposite side, add a splash of water and a knob of butter then transfer to a preheated oven 200°C /180°C fan assisted (gas 6) for 20 minutes until fully cooked through with a core temperature of 65°C before resting.
Finish by sprinkling over the zest and juice of the lemon.
Leave to rest in a warm place for 5 minutes before serving.
Serve the chicken with the warm aubergine, a dollop of cooling Greek yoghurt & flatbread.
Note:
This goes well with grilled lamb or simply swap out for chicken breast, any leftovers serve on warm toasted sourdough with a spoon of Greek yoghurt for a great summer lunch. Drinking a classic chilled Sancerre white wine is the perfect accompaniment.