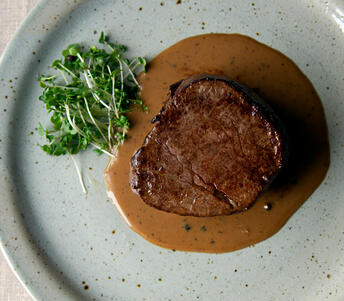 Ingredients

For The Steak:
2 x centre cut fillet steaks
Poultry fat or oil to cook
10g Unsalted butter
Sea salt to taste
For The Sauce:
10 g unsalted butter
1 banana shallot finely diced
2 garlic clove sliced
Few thyme leaves
1 tsp. smooth Dijon mustard
200 ml beef stock
100 ml whipping cream
1 tsp. Malabar black peppercorns
30 ml cognac or Brandy
Method
Remove steaks from packaging & fridge 1 hour before cooking.
Pre heat a griddle or heavy based frying pan large enough to hold the meat until it sizzles when you add a drop of oil.
Season the steak liberally with sea salt just prior to cooking & massage with fat or oil.
Sear the steak on all sides over high heat creating a rich, dark crust then reduce to medium heat
Cook 3 to 4 minutes each side basting the steak with foaming butter for the final couple of minutes of cooking.
For a rare steak, press the steak with your thumb it should have a slight spring to touch & a core temperature of 50°C before resting.
Alternatively you can pop the steak into a preheated oven (after the initial charring steps) 200°C /180°C fan assisted (gas 6) for 6-8 minutes.
Method for Sauce
Crush the peppercorns evenly, either using a mortar and pestle, spice blender on pulse or a rolling pin.
Melt the butter in a saucepan over low heat.
Add the shallots, thyme and garlic then sauté until soft, about 3 minutes.
Add the Cognac burn away alcohol for a minute or so.
Add mustard & beef stock and reduce by 70%.
Next add the cream and reduce the heat to low, simmer for 10 minutes or until you reach a nice consistency that just coats the back of a spoon.
Pass the sauce through a fine strainer then fold through the peppercorns, check seasoning adding salt if required.
To serve
Tender green beans tossed with bacon lardons & fondant potatoes.