Ingredients

for the 'seaweeed'
1 small savoy cabbage or a head of spring greens
1 tsp white sugar
1 tsp salt
1 tbsp oil
Pinch Chinese 5 spice powder
Furikake to finish (optional)
Lime wedge to serve
for the steak
2 bavette steaks
25 ml olive oil
25 ml light soy sauce
20 g soft brown sugar
15 ml balsamic vinegar
1 tbls. English mustard
Introduction
Savoy cabbage is a favourite of mine this time of year, so affordable, nutritious and versatile. Perfect as a simple side dish blanched and tossed with butter, shredded through spring vegetable soups and minestrone or here we do a new take on an old Chinese restaurant classic. Traditionally we used dried scallop roe to replace the sugar so if you're lucky enough to get hold of some substitute this for the sugar on the cabbage.
Method
Cut the savoy in quarters then cut away the core stem then finely shred the leaves
Put the cabbage (seaweed )into the air fryer, toss with a little oil then cook for 15 - 20 minutes at 170°C shaking half way through until golden and crisp.
Mix together the salt, sugar and 5 spice powder then sprinkle over the cabbage.
Alternative Deep fry Method
Blanch the shredded cabbage in boiling water for 1 minute and drain to pat dry.
Fill a pan with sunflower oil and heat to 160°C.
Fry small batches of the cabbage for 30 seconds, taking care as it may spit when put into the oil, until really crisp, then drain on kitchen paper.
Tip into a bowl and season with the salt, sugar and 5 spice powder to taste.
Keep a close eye on the cabbage as it can burn quickly!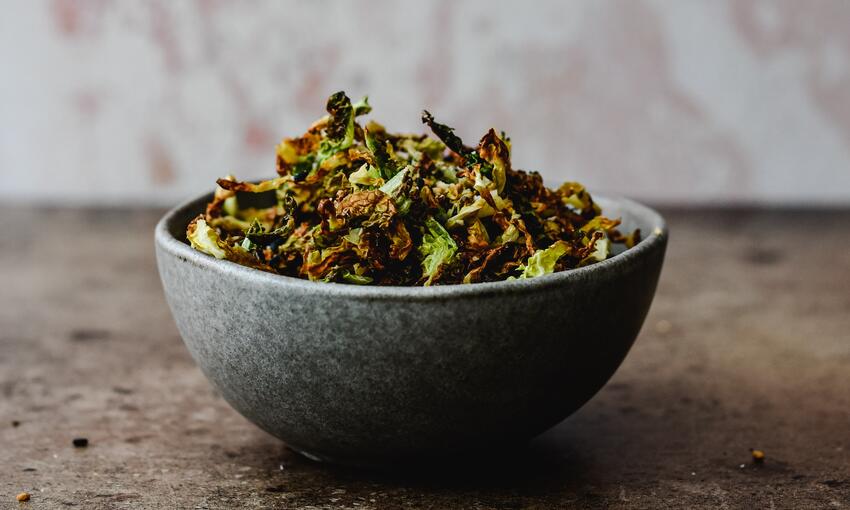 Simply mix the ingredients together then pour into a dish, add the steak and marinade in a chiller, for minimum 2 hours or up to 12 hours.
Once marinated, drain away excess juices and pat dry, bringing to room temperature pre cooking.
Pre heat a griddle or heavy based frying pan large enough to hold the meat until it sizzles when you add a drop of oil.
Sear the steak on both sides over high heat creating a rich, dark crust then reduce to medium heat.
Cook 2 to 3 minutes each side, press the steak with your thumb at the thickest point, it should have a slight spring to touch and a core temperature of 50°C before resting.
Leave to rest in a warm place for half the cooking time before carving into thin slices against the grain.
Serve slices of warm steak over sticky rice and scatter with the seaweed and Furikake and a squeeze of fresh lime. .