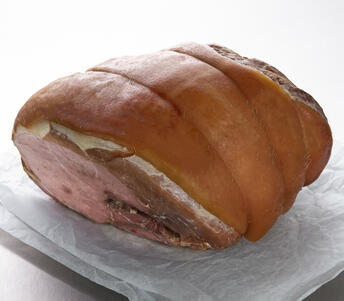 Ingredients

ripon cathedral cured gammon
Method
Remove your joint out of the packaging and rinse under cold water for 20 minutes or so, then pat dry.
Preheat your oven to 200°C fan assisted or 215°C for ovens without a fan.
There is no need to season the joint prior to roasting.
Choose a large, heavy-based roasting tray, ideally
with deep sides and handles for easy movement.
Make a trivet by roughly chopping equal amounts of onion, carrot and celery (or our preferred choice of celeriac, the root of the celery) plus a bay leaf, sprig of thyme and a few black peppercorns.
Place the gammon fat side up onto the trivet 
which should line the base of the tray.
Place in the centre of the oven and roast for 20 minutes. Next, add 500ml of local ale, water or cider to the roasting tray.
Reduce the temperature to 175°C for fan assisted or 185°C for ovens without a fan and cover with tinfoil. Continue roasting for 30 minutes per 500g reaching a core temperature of minimum 63°C.
Rest for a minimum of 10 minutes before serving.