The world's biggest butcher's range is at your fingertips
our christmas opening hours:
our ripon shop
makes it easier to buy better meat
We are Britain's best online butcher of the year and we're proud to call Ripon our home. Cut by Farmison & Co is our first UK concept shop and makes it easier than ever to buy better meat in-store.
Blending convenient and state-of-the-art retail with traditions of butchery, our meat is renowned by home cooks and tops chefs alike for both quality and outstanding flavour.
We are open 9am - 5pm Wednesday - Friday and Saturday from 9am - 2pm
Cut is located at Farmison & Co, Bondgate Green, Ripon, North Yorkshire, HG4 1QW.
what's on at Cut by Farmison & Co
Our exciting new BBQ range is now available in-store. Stop by to pick up your favourite BBQ meats, as well as the essential condiments, coal and wood chips!
the world's biggest butcher's range
Walk in and shop from our range of best sellers, whether it's a showstopping centrepiece or quick and easy midweek meals, we have it all. Alternatively, simply shop online from the world's biggest butcher's counter for same day Click & Collect, the choice is yours.
"be warned... you'll probably never buy meat from a supermarket again"
---
Leigh, F&Co customer
the new way
to buy better meat
always British, free range and naturally fed
proud suppliers to Harrods and Grantley Hall
Michelin star recipe inspiration
choose heritage breed cuts from our exclusive Yorkshire farms
showstopping centrepieces to steak night treats
We look forward to welcoming you to Cut by Farmison & Co.
Shop now
How do I book a click & collect order?
Click & Collect is available to people who live within a 30 mile radius of our offices in Ripon. When you place your order and you live within this area you will be offered the option of Click & Collect with a range of available slots to select your preferred collection.
We are open 9:30am - 5pm Monday - Friday
Saturday 9:30am - 12:00pm
and closed on Sunday.
Cut is located at Farmison & Co, Bondgate Green, Ripon, North Yorkshire, HG4 1QW.
what do i need to bring to collect my order?
Please bring your mobile phone with you to show the email as proof of purchase (if you have emails to your phone), or print out the receipt email confirming your order. You'll also need your photo ID.
For Click & Collect collections we accept the following forms of ID:
Valid passport
Driving licence
Recent Utility bill
If you paid entirely with gift vouchers, a gift card or PayPal, bring either your passport or photocard driving licence with you.
If someone else is collecting your order, they must bring your order number and your proof of ID.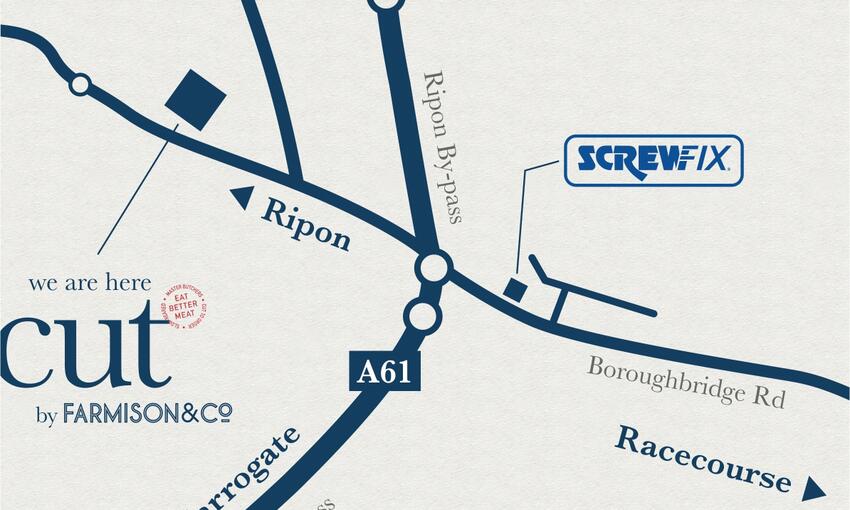 how long will you hold my order?
You must collect your order on the day and at the time slot which you have booked. Given the nature of the products we sell, we can keep your order safe for a further 24 hours if required. After that time your order will be removed from our storage and disposed of. You will not be entitled to any form of refund against your order if you fail to collect it within 24 hours of the booked time slot.