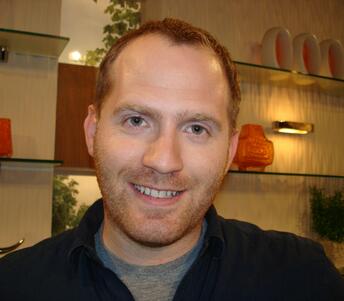 Ingredients

2 loins of lamb, weighing 600g in total
salt and pepper
2 tbsp vegetable oil
2 rashers of smoked streaky bacon, diced
1 onion, peeled and diced
500g/1lb2oz lamb stock
110g/4oz peas, cooked
50g/2oz butter
1 little gem lettuce, shredded
1 sprig of mint
pesto
400g/14oz wild garlic
200g/7oz baby spinach leaves
150g/5oz toasted pine nuts
110g/4oz freshly grated parmesan
300ml/11floz olive oil
Introduction
Head chef and sole proprietor of Oddette's in Primrose Hill, Bryn Williams learnt his trade under Marco Pierre White and Michel Roux Junior, and shot to fame on Great British Menu in 2006 beating other well known chefs to cook the fish course for the Queen, as part of her eightieth birthday celebrations.
Method
Method
Preheat the oven to 160ºC/ 325ºF/ Gas 3.
Season the lamb well with salt and pepper.
Place a heavy-based frying pan with a metal handle over a medium heat. When it is hot, add 1 tablespoon of the vegetable oil.
Put the lamb into the pan and colour it all over, turning it so that all the sides brown evenly. Don't rush this-the dish will have much more flavour and colour if you take your time.
Place the lamb in the oven for 8-10 minutes.
Remove the lamb from the oven, take it out of the frying pan and set aside to rest for 10-15 minutes.
In another frying pan over a medium heat, add the remaining vegetable oil and cook the bacon until crisp and golden.
Add the onion and cook for a further 2 minutes. Cover the bacon and onion with lamb stock and bring to the boil.
Add the peas, the butter, the lettuce and the mint, and season with salt and pepper to taste.
Method for pesto
Make pesto by blitzing all the pesto ingredients in a blender very quickly (if making in advance chill to keep colour) then add pesto to the pan then immediately remove from the heat.
To serve
Slice the lamb, pour the pea, bacon and pesto mixture into a large bowl or individual serving dishes, and arrange the lamb slices on top.