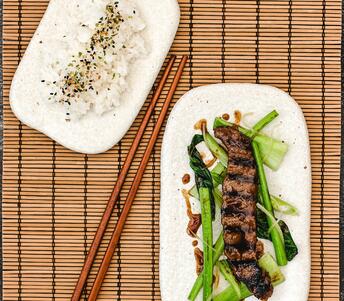 Ingredients

for steak
Wagyu steak strips, sirloin, rib eye or fillet steak
for teriyaki marinade / dipping sauce
60ml 2 year aged soy sauce
20ml Mirin
75g Okinawan sugar
15ml Rice vinegar
1 clove garlic finely diced
Thumbnail piece fresh ginger finely diced
1 tsp. Sesame oil
1 tsp. cornflour mixed with a little cold water
Introduction
The true definition of the word teriyaki means, "a Japanese dish of meat or fish that is grilled or broiled after being flavoured in a seasoned soy sauce marinade". Typically chicken is skewered and grilled but here we take Wagyu beef which lends itself beautifully to the sweet and salty glaze. Cooking over natural wood at high temperature will help recreate the perfect balance of sweet, salt and smoke.
Method
In a saucepan bring all Teriyaki ingredients to a simmer except the oil and cornflour, once sugar has dissolved whisk in corn flour mix then take off heat and stir in the sesame oil.
Divide the Teriyaki marinade into half, using one half to brush onto the steak and reserving the rest for a dipping sauce to be placed on the table.
Take a heavy based frying pan, or BBQ set for direct grilling and over a high heat sear the steak 2 minutes each side.
Slice the beef across the grain to serve.
Serve with the reserved dipping sauce, sesame fried greens and steamed Japanese rice sprinkled with Furikake.