Ingredients

For The Oxtail:
1 x kg oxtail sectioned
100g Smoked streaky bacon cut into lardons
16 x pitted prunes (optional)
For The Sauce:
1 x large onion
2 x sticks celery or piece celeriac (optional)
2 x carrots
4 x cloves of garlic peeled
Strip orange peel
10 x juniper berries
8 x black peppercorns
2 x cloves
Cinnamon stick
Pinch ground ginger
20 ml rapeseed oil
½ bottle red wine full bodied
500 ml beef stock
1 x tbls tomato puree
1 x tbsp. corn flour mixed with a little cold water
Method
Preheat oven 130°c fan assisted or 150°c without a fan (gas 2) or set the slow cooker.
Make a Mirepoix by neatly chopping equal amounts of onion, carrot and celery or my preferred choice of celeriac, the root of the celery plus the spices and the garlic cloves.
Take a large, heavy-based frying pan, and add a little oil & fry the oxtail and bacon on all sides then transfer to a casserole dish or slow cooker.
Next fry the mirepoix in the same pan until lightly browned then add red wine, reduce by two thirds then add tomato puree, orange peel & the beef stock then reduce a little, thicken with a tablespoon cornflour mixed with a little cold water stirred into the boiling broth.
Pour the sauce over the oxtail and vegetables then cover with a tight-fitting lid & place in the oven and cook for 3 hours, the meat should be tender & falling away from the bone.
When cooked pass off the sauce through a fine sieve into a clean saucepan, add the prunes then reduce to a glossy finish then pour back over the meat ready to serve discarding the vegetables & spices.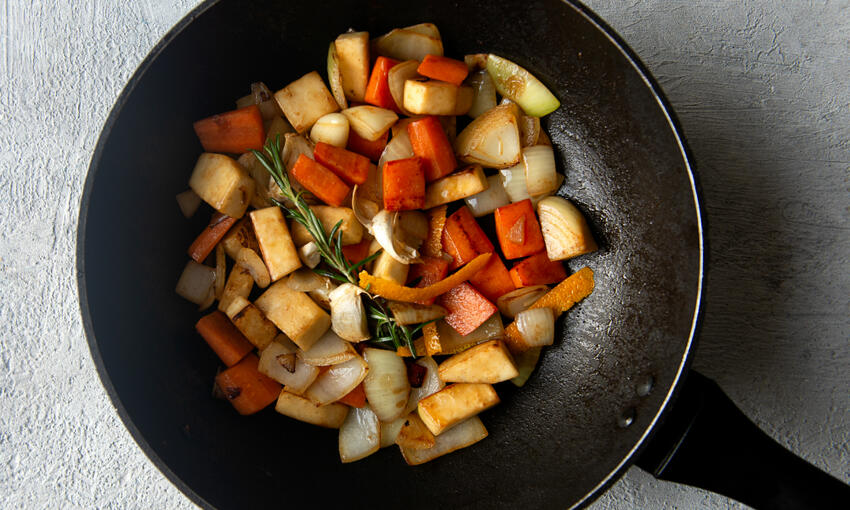 Mashed potatoes, red cabbage pickle & hot mustard.