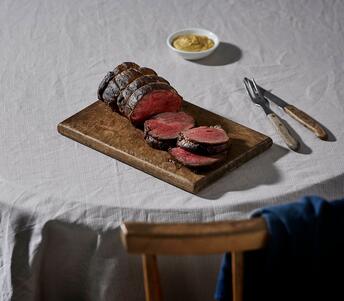 Ingredients

1 x 550g Chateaubriand
1 tsp. duck or goose fat
Bordelaise sauce
10g unsalted butter
6 x shallots finely sliced
2 x cloves garlic crushed
Few thyme leaves
2 x bay leaves
12 x black peppercorns
1 tsp. sugar
15ml red wine vinegar
375ml full bodied red wine
350ml beef stock
20g cold, diced butter
1 tsp. cornflour mixed with a little cold water
Small bunch of watercress
Method
Roast Chateaubriand Method
Remember, after removing your joint from the packaging, pat dry and bring to room temperature.
Preheat your oven to 210°C for fan assisted or 220°C for ovens without a fan.
Massage a little duck or goose fat into the beef, then season with good quality fine sea salt.
Heat an oven proof heavy based frying pan or griddle on top of the stove until smoking hot.
Next, add the beef to the pan and colour on all sides over intense heat for 3 to 4 minutes.
Place pan/griddle into the centre of the oven and roast the beef for approximately 7 to 8 minutes, reaching a core temperature of minimum 54ºc for a medium rare finish.
Remove from the oven, put onto a clean tray and keep warm by covering with a sheet of tin foil. Rest for a minimum of 10 minutes before serving.
Bordelaise Method
Soften the shallots in butter in a frying pan at medium heat.
Add the garlic then cook over a low heat for a couple of minutes.
Add vinegar, sugar, herbs and spices.
Boil to a syrup.
Add the red wine and reduce again to a syrup.
Add the beef stock and simmer for 15 minutes, reducing by half.
Thicken slightly with a little cornflour.
Pour the sauce onto the cooking pan to deglaze all the meat juices from the pan, then pass the sauce back into a clean saucepan.
Bring back to the boil and slowly whisk the cold butter into the sauce until fully emulsified.