Welcoming Dexter Twins To The World | Farm Visit
Blog • June 4th 2021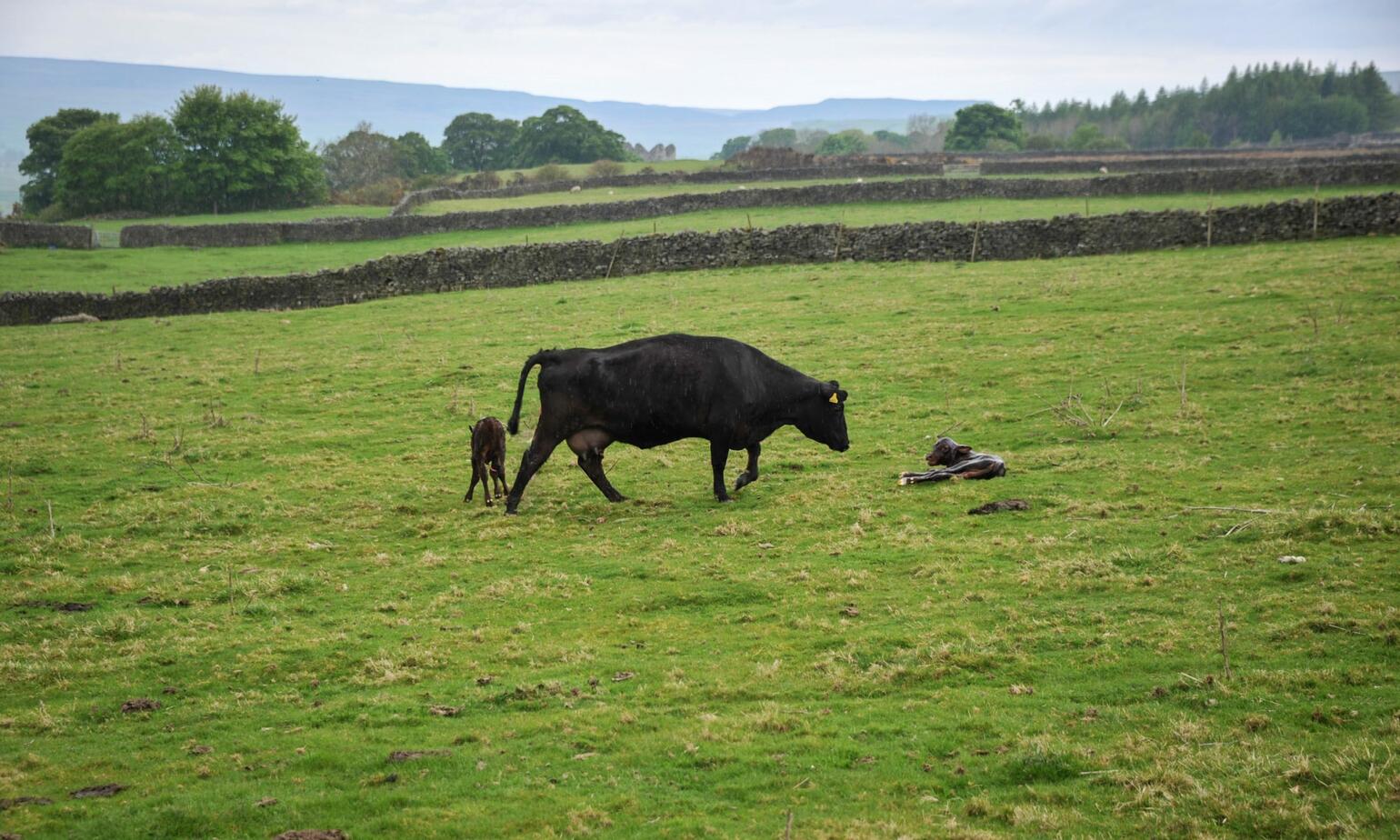 Last week, on 28th May, our team ventured up the dale to meet with friend, and long-term farmer Stuart Raw to visit our new herd of ancient White Park cattle. What we were not expecting was to witness the natural birth of twins, from one of our Dexter cows.
In the foreground of Castle Bolton, the Dexter twins, Prince and Charles, were quick to find their feet as their mother welcomed them gracefully into the world - with a helping hand from Stuart. At only one week old these twins are picking up plenty of attention, and rightly so. The revival of this breed is a fantastic success story. As a breed that once faced the threat of extinction, it is great to see the herd thriving in their preferred environment - on rough pasture in the great outdoors.
The twins, named after the Prince of Wales for his support of heritage breeds and British farming, are believed to be the first animals to have their births announced in The Times - confirmation that the resurgence of heritage breeds is on the rise.
Our founder, John Pallagi, who was present at the birth, said "It was an honour to be present at the birth of our new Dexter twins, and to support one of our British small-scale farmers who do right by the land. Farmers like Stuart who care for their animals properly are the cornerstone of the countryside. This kind of production, in balance with nature, stands in contrast to the impending Australia-UK trade deal which could leave our best farmers facing an existential threat."
Working together with Farmison & Co, Stuart grew his herd from only 8 head of cattle to over 150 dainty Dexters. Following on from Stuart's success, F&Co have launched a new scheme with Stuart to revive another heritage breed, the White Park. With financing from Farmison & Co and Stuart's expertise, we hope to replicate the same success and slowly revive the rare breed White Park.
Both these breeds have come perilously close to extinction, with the onset of industrialised farming. Our mission is to return heritage breeds to the nations table, with our founding principle being that the more we demand them, the more farmers will rear them. And that's just what we're seeing, without demand, this wonderful story would not exist.