Jeff Baker's 12 Tips for Christmas Cooking
Blog • November 26th 2013
Getting everything ready for Christmas can be stressful: What's needed is careful planning and with this I, and Farmison & Co, can help.
1. One thing that's easy to overlook is the drinks:
We go through tons of ice and stock up on the juices, while I'm always careful to remember to chill the fizz and white wines or open the red a couple of hours before dinner to let it breathe.
My festive drink of choice is mulled port: Here's my personal recipe that I serve up every year in the Baker household. Slice an orange and lemon in half and stud each half with some cloves. Bake in the oven at 200c for 20 minutes and in the meantime bring 300ml of water to boil with some cinnamon, root ginger, spices, and 10g of sugar. Reduce by fifty percent, and then cool a little. After this, add a full bottle of port, a glass of fresh orange juice, and the baked fruits. Serve warm as a great way to kick off the festivities!
2. For pre meal festive nibbles
Staal smoked fish and meats make for a tasty selection while being simple to prepare. Serve with sourdough and condiments, all of which can be found in our Christmas pantry
3. Need a simple yet elegant way to start your Christmas lunch?
Why not try a watercress vichyssoise? Firstly take 2 large onions and 6 cloves of garlic, chop them up finely and soften in 50g of unsalted butter with a little sea salt and ground white pepper. When translucent, add 300g of peeled diced main crop potatoes and cover with 500ml of made up essential cuisine vegetable stock. Cook until tender, then add 100ml of single cream, simmer for 5 minutes, then blend with 2 big handfuls of water cress (with large stalks removed) until smooth. Whisk in 50g of butter and then season to taste. If you're pushed for time, you can make the soup in advance and reheat, blending the watercress at the last minute, which works really well. I often eat this soup with the addition of 3 or 4 freshly shucked oysters dropped into the hot soup at the last minute or even some finely sliced scallops.
4. Here's a great starter perfect for impressing guests over the festive season:
Baked figs and fresh goats curd with truffle honey
Makes: 4 | Difficulty: Easy
Ingredients:
12 black figs
200g Yellison goat's curd
Winter rocket leaves
4tsp truffle honey
4 tsp walnut oil
1tsp sherry vinegar
Small handful broken walnuts
Directions:
Bake the figs in a cool oven at about 120° c with the truffle honey until tender (usually takes about 15-20 minutes). Next, mix together the oil and vinegar and toss with rocket leaves and place the salad in 4 bowls. Add the figs and curd into each bowl, then scatter over the broken walnuts. For extra scrumptiousness serve with fresh baked Farmison & Co's sourdough.
5. The biggest cause of concern for most, there's no need to panic. Getting the most out of a turkey or goose is simple:
Turkey:
When receiving your turkey remove the giblets from the cavity and reserve for gravy. Store the turkey below 5°c for up to 5 days: A garage or shed can work this time of year, but make sure it's in a sealed box with frozen ice packs. On the day of roasting sit the turkey in your kitchen to gently come to room temperature, this will enable the turkey to roast more evenly. Be sure to weigh the turkey at this point.
My favourite method is to soften 150g of butter with the zest of a lemon, sea salt, thyme leaves, and a splash of olive oil, (about 25ml). Gently lift the skin away from the breast meat starting at the cavity and carefully push the softened butter between skin and flesh.
Next, cut an onion in two and place it with the rind less lemon and a carrot into the cavity with some fresh sage. Now put the turkey on a wire trivet and place in a preheated oven at 225°c for 20 minutes.
Now pour 500ml of water onto the base of the tray and cover the turkey with tin foil. Reduce the heat to 165°c and roast 40 minutes per kilo, removing the tin foil for the last 30 minutes or so to colour the skin. To check the turkey is cooked pierce the skin between thigh and breast and push the skewer in to the flesh close to the bone. The juices should run clear.
Carefully remove the trivet with the turkey on to large tray and keep warm, covering with foil. To make the gravy, tip any juices from the tray and add the giblets to the roasting tray. Colour the mixture with the vegetables from the turkey cavity, and add the light poultry stock and roasting juices.
Bring to boil and skim any fat that rises to surface, then pass through a fine sieve and serve. Best accompaniments are homemade bread sauce and cranberry jelly. The stuffing I roast on the side to get a beautifully crisp exterior, yet soft and tasty centre.
Goose:
Remove the goose from the fridge 2 hours before roasting. Place in a deep tray and prick the skin with a fork being careful not to damage the flesh. Then pour over a litre of boiling water: This will help crisp up the skin. Check all the giblets are removed and stuff the cavity with a cut apple, an onion cut in half, the zest of an orange and some sage. Next, rub the skin with salt and place the bird on a trivet in a deep roasting tray. Roast for 20 minutes in a preheated oven at 225c then baste the bird with its own fat.
Reduce the temperature to 165c and carry on roasting for 40 minutes a kilo or 45 minutes a kilo for a more well done bird. Baste the goose every 15 or 20 minutes. When cooked remove the goose from the oven and leave to rest for 30 minutes or so. Reserve the clear goose fat for the best roast potatoes, parsnips, or Jerusalem artichokes, and serve the goose with a sharp cranberry or redcurrant sauce for a real festive treat.
6. For a rich and buttery bread sauce
Try this modern take on a old favourite: Take 6 slices of brioche without crust and make into crumbs, heat 350ml of whole milk with 1/2 diced onion, bouquet garni, and season with salt, pepper, and a little nutmeg. Pass the infused milk onto the breadcrumbs and cook on a gentle heat until thickened slightly. Then whisk in 50g of cold diced butter and keep warm. Of course this recipe can be made with simple white breadcrumbs if you prefer a more traditional sauce.
7. Here are my professional tips for getting the best out of your greens.
For carrots, turnips, parsnips or even shallots, I simply place them together in a tin foil bag with a sprig of thyme or rosemary, a whole garlic clove, sea salt, and a teaspoon of duck fat. I then bake in the oven for a minimum of 1 hour until the vegetables are sweet and lightly caramalized. For green vegetables and brassica I boil them in lots of salted water until just cooked, then I refresh in ice-cold water and drain. To finish, I gently toss in a little butter and cracked pepper, sometimes with toasted almonds, caraway seeds or crispy smoked bacon and a few diced shallots
Cranberry sauce
Prep Time: 15 minutes | Cook Time: 20 minutes | Makes: Up to 20 servings | Difficulty: Medium
Ingredients:
250g cranberries
100g sugar
50g redcurrant jelly
200ml full bodied red wine
50ml ruby port
1tsp pectin (optional)
1 cinnamon stick
Zest of 1 orange
2 bay leaves
10 whole peppercorn
Place the aromats in a muslin bag for the bouquet garni and tie, this is to infuse the sauce then simply remove the bag when finished.
Boil together the sugar, jelly, wine, and port and reduce by 1/3. Add the aromats and pectin (if you're using it) and whisk until the pectin dissolves evenly. Add the cranberry and simmer for 10 minutes Next remove the bouquet garni and place the sauce in a sterile jar, this can be stored for up to 1 month. The sauce goes great with turkey, goose, and duck as well as country style pate and terrine.
9. For an alternative potato dish at Christmas
We make parsnip and potato gratin. Simply warm equal amounts of whole milk and cream for 500ml in total, with a couple of crushed garlic cloves, plus salt and ground white pepper. When nicely infused pass the mixture onto roughly 500g of thinly sliced potatoes mixed with 200g of thinly sliced parsnips. Layer in a gratin dish and bake for 15 minutes on 220c, then lower the heat to 175c and cook for a further 40 minutes or until the potatoes are tender. Don't forget to press the gratin now and again to form a cake like texture.
10. If you feel like either an alternative to pigs in blankets
Or even something to go with them try wrapping a pitted prune in some Lancashire pancetta and insert a little sage leaf between the two items, and simply grill. These 'devils on horseback' go particularly well with goose and duck as well as all your other roasting birds.
11. This dessert is perfect for adding a little interest to your festive table.
Using the Tunisian pastry feuilles de brick.
You'll need:
3 individual luxury Christmas puddings
the grated zest of 1 medium orange
the grated zest of 1 lemon
7 sheets of feuilles de brick
1 tablespoon icing sugar
250g mascarpone
3 tablespoons dark muscovado sugar
3 tablespoons dark rum
A baking tray, lightly greased
Mix the rum with the muscovado sugar in a small bowl, and leave it to stand so the sugar has to time to dissolve. This usually takes about 30 minutes.
In the meantime turn out the Christmas puddings into a bowl along with the grated zests and mix it up with a fork. Divide this mixture into six equal portions, and roll each one into a sausage shape about 12cm in length.
Next, peel one of the sheets of pastry away from its backing paper and lay it on a clean, dry surface. Then turn the first 6cm of pastry nearest to you inwards to make a fold. Take one of the rolled pudding pieces and place it centrally along the folded edge and roll it tightly away from you to give a long cigar shape.
Repeat the process with the rest of the pastry, and place evenly spaced on the baking tray.
Take the remaining sheet of pastry and using a pair of scissors, cutting 12 ribbons of pastry (1cm wide) from the centre of the pastry (so the ribbons will be longer). Next, pinch the pastry around both ends of each pudding and gently tie with a pastry ribbon - without pulling too tightly or it will break.
When all the crackers have been tied, pop the tray on the centre shelf of the oven and bake for 18 minutes.
In the meantime make the rum cream by combining the rum-and-sugar mixture with the mascarpone using an electric hand whisk. When the crackers have been baked, let them stand for 10 minutes before cutting each one in half diagonally with a serrated knife. Serve them, one half cracker leaning against the other, dusted with some icing sugar and Mascarpone Rum Cream on the side.
I like to serve my crackers with some cream, either whipped or pouring.
12 . Never know what to do with the leftovers?
A quick and delicious way to use up any leftover turkey is to dice 2 onions and soften with a crushed clove of garlic. Add a glass of dry white wine and boil into syrup.
Next up, add 200ml of poultry stock and 200ml of cream. Bring to a boil and season with salt and pepper. Roughly slice a selection of mixed mushrooms (about 150g) and add to the sauce, then add your shredded turkey and a dozen or so chestnuts, walnuts or almonds to the mix. Simmer for 20 minutes on a low heat. To finish, add a handful of chopped parsley and serve with some simple rice, potatoes or make into a wonderful pie. Simply chill the mixture down then cover with a good quality puff pastry and bake for 20 minutes at 190c until golden brown!
And here's a few more tips!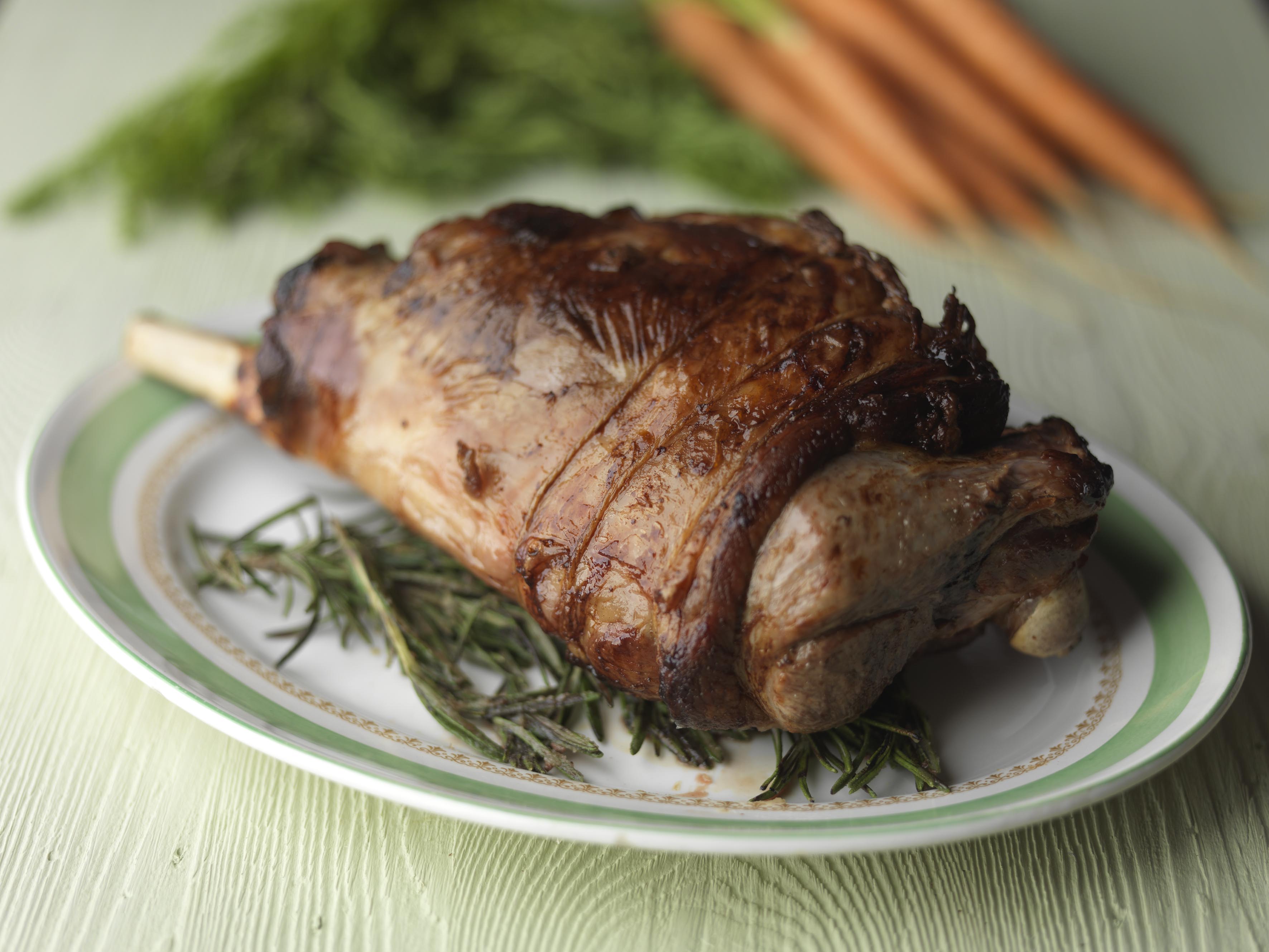 Roasting Tips
For roasting your celebration joint, I would suggest buying a meat thermometer; a really useful tool to get your favourite joints just how you like them to be. Always be sure to jot down the weight of your joint before starting, then take out of the chiller and allow to get to room temperature.
Roasting on a trivet is an excellent way to roast a joint, resting on vegetables, (a large cut onion, carrot, and celeriac is my preferred choice, and adding a split bulb of garlic if I'm roasting lamb). The trivet ensures aromatic cooking, preventing the base from drying out, while also providing the base for your gravy. Before roasting pat dry any excess moisture to ensure the joint can roast more evenly, and which will help with the caramalisation (Maillard reaction).
Always pre-heat your oven! When preparing the oven I start nice and hot at around 225c. For pork I score the skin all over - a good tip is to use a stanley blade - then scald the rind with hot water. Before roasting rub your joint (whether pork, lamb, or beef) with sea salt and a little goose or duck fat, if there's not a healthy coating of natural fat there already. Place on the trivet and roast for 20 minutes.
Next reduce the heat to 175c. For beef and lamb keep roasting for 20 minutes per 500g, and pork 30 minutes per 500g. When using the thermometer I suggest the perfect core temperatures are 54c for medium rare beef, 58c for pink lamb, and 65c for pork once the joints are cooked.
Be sure to leave the joint to rest before carving for up to half the cooking time to let the proteins relax.
Getting the Gravy Right
For the gravy tip the excess fat from the roasting tray and pour hot essential cuisine stock into the tray. Gently scrape any meat sediment from the tray into the stock and boil for a few minutes to reduce the volume. You may add an herb of your choice at this stage; the classics are sage with pork, thyme with beef, and rosemary with lamb. Pass the juice through a fine sieve into a clean pan. If you prefer your gravy a little richer, reduce the gravy until slightly syrupy and whisk in a large knob of cold unsalted butter.
Roasties
Roast spuds can be hard to get right. My trick for perfect roasties is to peel, wash, and steam your potatoes until just cooked. This usually takes about 16 minutes. Next, melt the duck fat and toss through the potatoes, and season with a little sea salt. To roast, place on a non-stick tray in a hot oven at 200c until golden.
Spiced Red Cabbage
A favourite side dish of mine is Spiced Red Cabbage, ideal for the Christmas table as it pairs with festive meats and vegetables fantastically.
Prep Time: 20 mins | Cook Time: 1 hr | Makes: Up to 12 portions| Difficulty: Medium
Ingredients:
1 red cabbage finely shredded
1 red onion thinly sliced
1 diced Granny Smith apple
125g butter
125ml red wine or red wine vinegar
75ml port
The juice and zest of 2 oranges
150g sugar
1tbsp mixed spices
75g golden raisins
Directions:
Place all in a heavy bottomed pan except half the butter, next cover with a lid and cook until tender. Remove the lid and reduce the liquid until glossy and rich, then fold in the cold, diced butter.
Honey glazed ham with cloves
A favourite of mine and a great centre piece for a celebration buffet, the ham joint is especially great because any leftovers can be used to make a simple boxing day macaroni cheese, or to make beautiful honey roast ham sandwiches.
Prep Time: 15 mins | Cook Time: 2 hrs 30 mins | Makes: 8+ | Difficulty: Medium
Ingredients:
1.5kg dry cured ham uncooked
1 stick of celery, 2 carrots, 1 onion, 4 garlic cloves, all roughly chopped
12 peppercorn,
2 bay leaves
12 cloves
75ml your favourite honey
Directions:
Simply bring the ham to the boil in a large pot of fresh cold water. Skim off any white foam and simmer for 30 minutes for each 450g - about 1 hour 30 minutes with 1.5 kg - adding the chopped vegetables after 30 minutes or so along with the peppercorn and bay leaves. Remove the ham while still hot and place fat side up on the roasting tray. Brush with the honey and stud with cloves, and then place in a preheated oven at 215° c for 15 to 20 minutes. Remove from the oven and leave to cool.
Brandy Butter
To get cracking brandy butter my trick is to use 200g of unsalted butter, a few flakes of sea salt (ideally halon mon), 1 split vanilla pod with the seeds scraped out, 150g icing sugar, and 30ml of brandy of your choice. Simply beat the butter, vanilla, salt, and icing sugar until light and creamy. Next, fold in the brandy and chill. When serving remove from the fridge a few minutes early to come to room temperature to let the flavours develop.
Chestnuts
Chestnuts are one of the silver linings of the chilly weather, traditionally served up as street food. For your own at home, place your chestnuts flat side down and insert a cross on the top of each chestnut with a knife. Pop in a bowl and pour over boiling water for a minute or so, then drain and pat dry. This helps create steam to make the chestnuts creamy in texture inside. Place in a hot oven at about 220c for 30 minutes or so until the skins curl. Peel while still warm, as the outer shell is expanded and easier to get off.
White Rum Sauce
Classic white rum sauce is perfect for puddings. Take 60g of butter and soften in a saucepan. Add 60g of plain flour and cook into a thick paste. In a separate pan warm 450ml of whole milk with a split vanilla pod and 60g of caster sugar. Next, gradually add this to the roux (butter/flour mixture) and stir continuously until thick and creamy. Now add the dark rum to taste: Remember it's only once a year so be generous! Serve piping hot.
Choosing the Right Cheese
For me, nothing beats an indulgent cheeseboard at Christmas. To get the most out of a good selection, remember to take your cheeses out of the chiller a couple of hours before serving. Take off any wrappers, (though keep these in case there's anything left) and place on a board. Don't let the cheeses touch each other, while it's best to place the fresh, milder cheese on the board first, with the more pungent cheeses placed away from these.
Next, I take a muslin cloth and rinse this in cold water before squeezing out all excess moisture and laying over the cheeseboard. Keep this in a cool area, ideally with a little draught and away from sunlight. We want the cheese to breathe and release its natural oils, not sweat. When cutting the cheese always try to wipe your knife before each cheese, while I suggest eating the young and fresh cheese first to appreciate the more delicate flavours. I like to enjoy my cheeseboards with semi dried fruits, some quality butter, and a simple biscuit or two, or if I'm lucky some fruit cheese or truffle honey.